30-day return guarantee for money back
Regular price
Sale price
$29.99
Unit price
per
Sale
Sold out
DESCRIPTION
Our concealable vests not only stop bullets but are also strike and slash resistant. With full side protection our vests offer 15% more coverage than our competitors! Engineered with Self Structured™ panels to achieve the #1 comfort rating among all soft armor by customer review!
FEATURES
Bullet, strike & slash resistant!

Constructed with custom para-aramid

Full side protection – 15% More coverage!

Concealable design


Engineered for comfort and maneuverability

Cooling mesh liner

10 Point adjustable with 4 Comfort Straps

2 low profile pockets for level IV rifle plates

Water resistant polyester carrier with rip stop
Rated #1 in Comfort
Safe Life Defense armor is rated #1 in comfort based on customer review! Our unique Self Structured™ panels distribute weight evenly and dissepate heat making your armor comfortable for all day everyday wear.
Proven Quality at Competitive Rates
Constructed with a custom para-aramid, our vests not only stop bullets but are also strike and slash resistant.
Level iiia Protection
Safe Life Defense armor reliably defends against: all common handgun rounds including .357, 9mm, 45acp, all the way up to .44 magnum. Level iiia protection even protects the wearer from shotgun rounds including 00 buckshot, 12 ga slugs and even submachine gun rounds. In conjunction with our level 4 rifle plate our armor protects against rifle threats all the way up to .30-06.
15% More Protection
Safe Life Defense body armor comes standard with wrap around side protection. The protection surface area of Safe Life Defense provides over 15% more coverage than our closest competitors!
Warranty & Guarantees

FIT GUARANTEE
Safe Life Defense guarantees the proper fit of your body armor. If you feel your vest does not fit properly, we will exchange your vest. Exchanges must be within 30 days of delivery and in original condition.
INCIDENT GUARANTEE
Safe Life Defense stands behind our products and your personal protection.
In the unfortunate event that you are shot while wearing your vest, we will replace it at no cost as long as a police report is provided during your 5 year warranty.
WARRANTY
5 Year manufacturer warranty on all ballistic panels and plates.
2 Year warranty on all carriers.
Sizing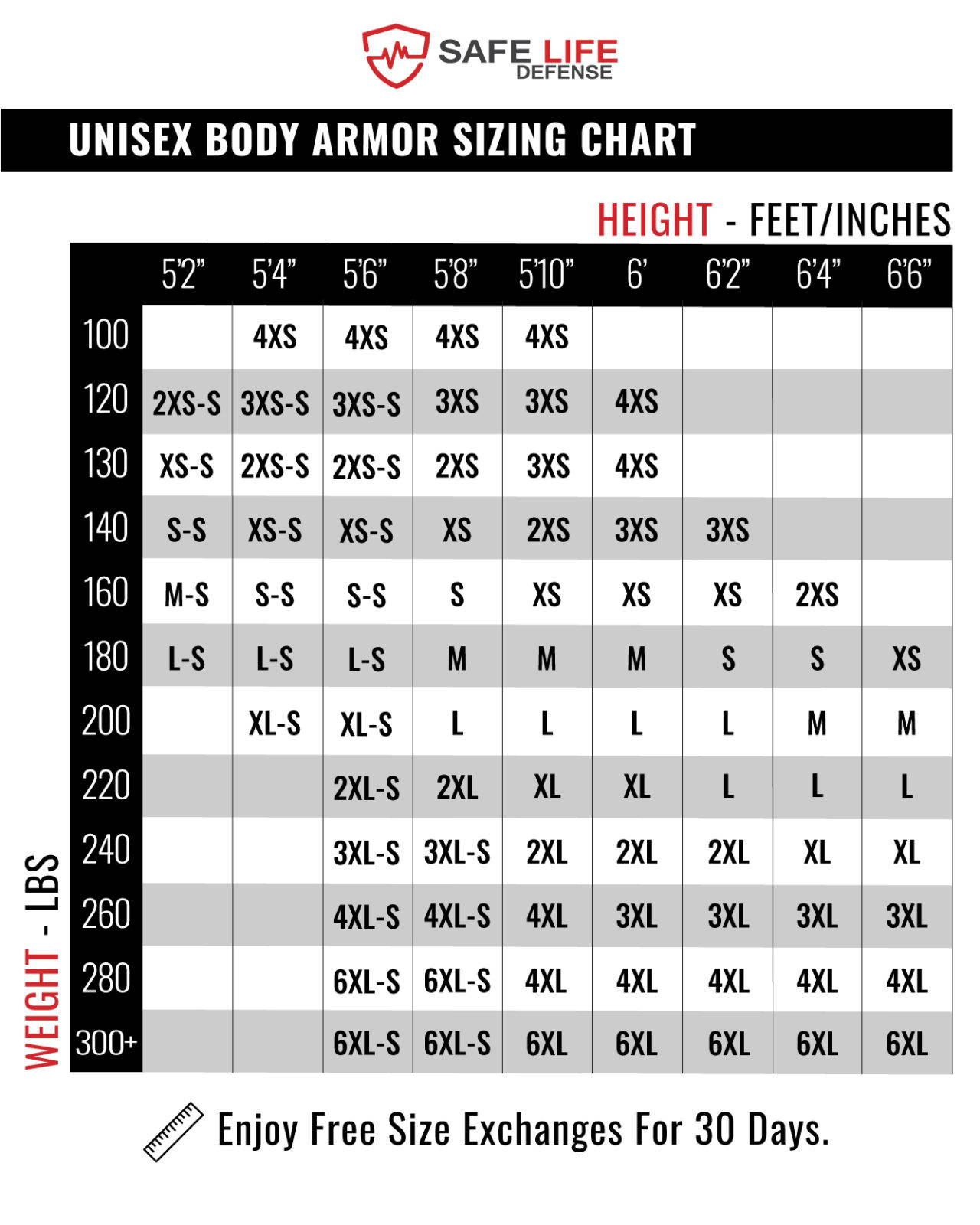 Share
View full details